Partnership
Royal Healthcare Appoints dtcpay as a Crypto Payment Innovation Partner
dtcpay has been selected as a Crypto Payment Partner for Royal Healthcare
26 Jan 2023 • 3 mins Read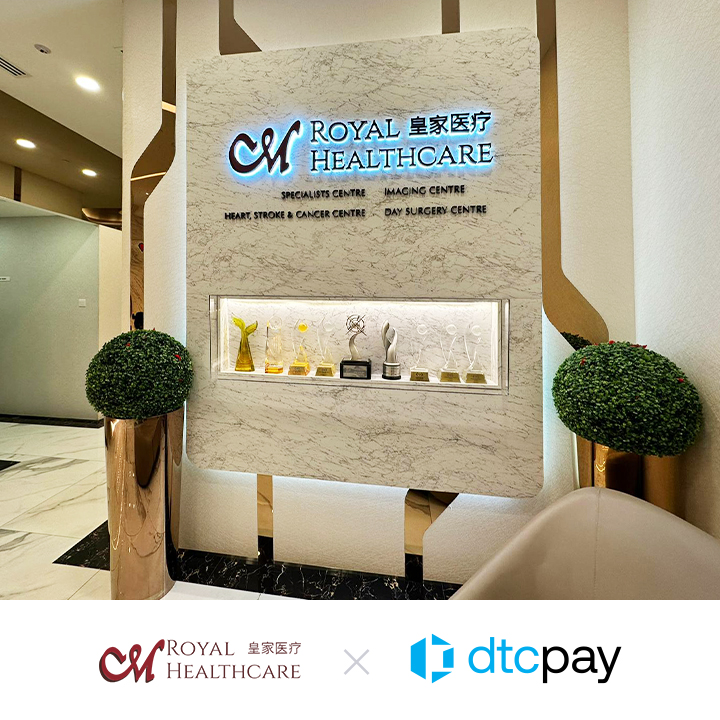 Singapore – 12 January 2023 – Royal Healthcare Medical Centre, one of the leading multispecialty medical centres in Singapore has appointed the dtcpay, a licensed payment services provider by the Monetary Authority of Singapore (MAS) to process crypto payments.
---
Introduction
As the healthcare industry has evolved, the move makes it the first medical centre in the region to accept cryptocurrencies such as Bitcoin, Ethereum, Tether USDT and USDC as payment transactions. The new service will allow customers that own cryptocurrency to make payments by simply scanning a QR code at checkout to make payment with their preferred cryptocurrency. This partnership will bridge the gap between traditional and digital payments and make it the first medical centre to partner with dtcpay.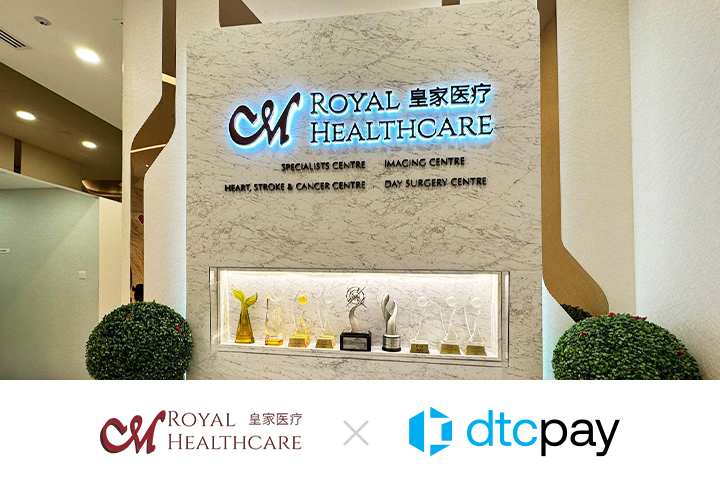 This partnership will meet the demand for crypto wealth and usher in a new era of digital payment and innovation in finance. "dtcpay is seeing strong demand from businesses to offer crypto payments, which is of course driven by their consumers." Alice Liu, Chief Executive Officer and founder of dtcpay said. "We are honoured to provide crypto payments solutions for Royal Healthcare to satisfy the growing market need."
El Lee, Chief Operating Officer of dtcpay: "What we are doing with Royal Healthcare is great. Accepting crypto payment opens access to crypto wealth clientele and provides consumers with greater convenience and experience. The user experience is going to be amazing!".
"We're delighted to partner with dtcpay as we see a demand for crypto payments from our clients and we're happy dtcpay's capabilities to help us simplified the process for crypto payments by using the dtcpay POS+ terminal. We are looking forward to be able to use dtcpay POS+ terminal for more payment options.",
Kenneth Yeo
Business Development Manager of Royal Healthcare.
About Royal Healthcare
Royal Healthcare "One Day, One Stop, One Centre". All your healthcare needs. All in one centre.
Royal Healthcare is an integrated healthcare provider providing a comprehensive range of healthcare services including specialist healthcare, general medical services, day surgery, dental centre, diagnostic imaging centre and aesthetic medical services. The group with a focus on integrating the latest medical advances and cutting-edge science and technology in early prevention, diagnosis and treatment with the goal of providing quality treatment and aftercare through sensible and accurate diagnosis to achieve the best medical choices.
At Royal Healthcare, patients are able to get lab tests, diagnostic imaging scans, and some procedures were done – all at the same location. This allows for better coordination and reduced waiting times, and it saves the patient the hassle of travelling to different locations. At present, the group has one multispeciality medical centre, three medical aesthetics centres, one diagnostic imaging centre – at Royal Square Medical Centre. It covers a wide range of specialist medical services, including cardiology, ear nose throat, internal medicine, orthopaedics, urology, gastroenterology, ophthalmology, radiology, obstetrics & gynaecology, renal medicine, vascular surgery, men's health, dentistry, dietetics and aesthetics. Our focus is on integrating recent advances in medicine and the latest technology for precise diagnosis, early prevention, diagnosis and treatment. The Centre aims to be the ideal choice for all medical needs by delivering a safe, fast and accurate diagnosis.
To find out more, go to our page at  https://www.royal-healthcare.com/
If you would like more information, please contact:
Email: askus@royal-healthcare.com
Mobile: +65 6931 8000 / +65 8181 8671