Blog
Navigating the Payment Regulations in Singapore
With the rise of payment and crypto companies globally, there is a demand for these companies to identify an ideal location to set up their base, and Singapore has always been a top choice for them.
18 May 2023 • 4 mins Read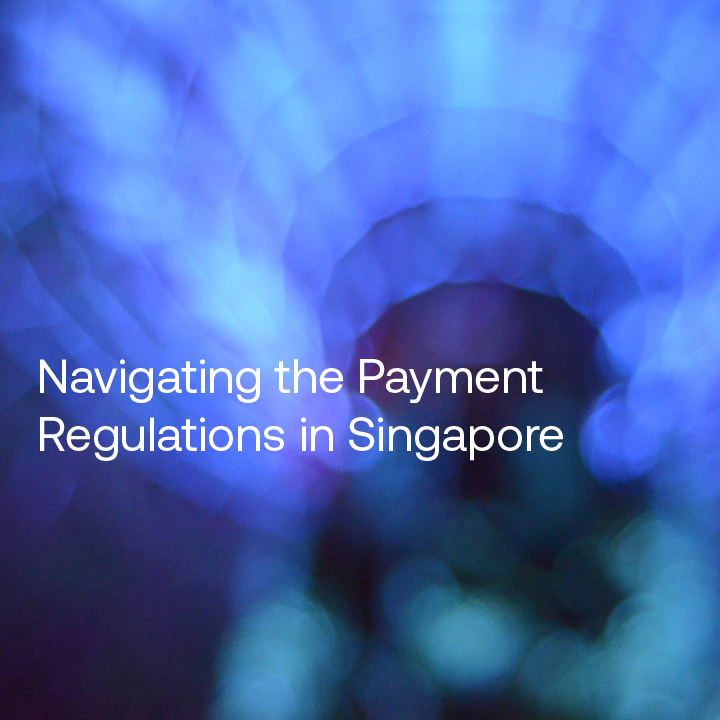 With the rise of payment and crypto companies globally, there is a demand for these companies to identify an ideal location to set up their base, and Singapore has always been a top choice for them.
---
Introduction
A transparent and fair regulation framework, vibrant fintech ecosystem and ease of doing business make Singapore the ideal place for fintech companies to set up shops.
In the PwC's fintech's state of play report 2022, 31 per cent of fintech companies in Singapore are providing payment-related services. A strong regulatory framework in a highly respectable financial industry, Singapore has positioned itself as the hub for payment and crypto companies. More than 500 applications were submitted when the Payment Services Act (PSA) were in force in 2019 is a testimony that Singapore is a popular destination for these companies.
Electronic money, also known as e-money, is a digital medium of exchange that is represented on an electronic device, such as a smartphone or a prepaid card. E-money offers several benefits, including increased security, convenience, and fast transaction speeds. It has greatly reduced the role of cash in many countries and is expected to replace entirely in the future.
Understanding the Singapore payment license regime
Under the Payment Services Act (PSA) licensing framework, companies are being regulated based on the activities they operate in, and there are seven regulated activities under the Act.
Depending on the applicant's business plan, they could be regulated for one or more activities under the Act. The seven activities are sufficient to regulate and encourage innovation among the fintech companies. Let's take a closer look at how each individual license activity helps companies to innovate within the regulated regime in Singapore.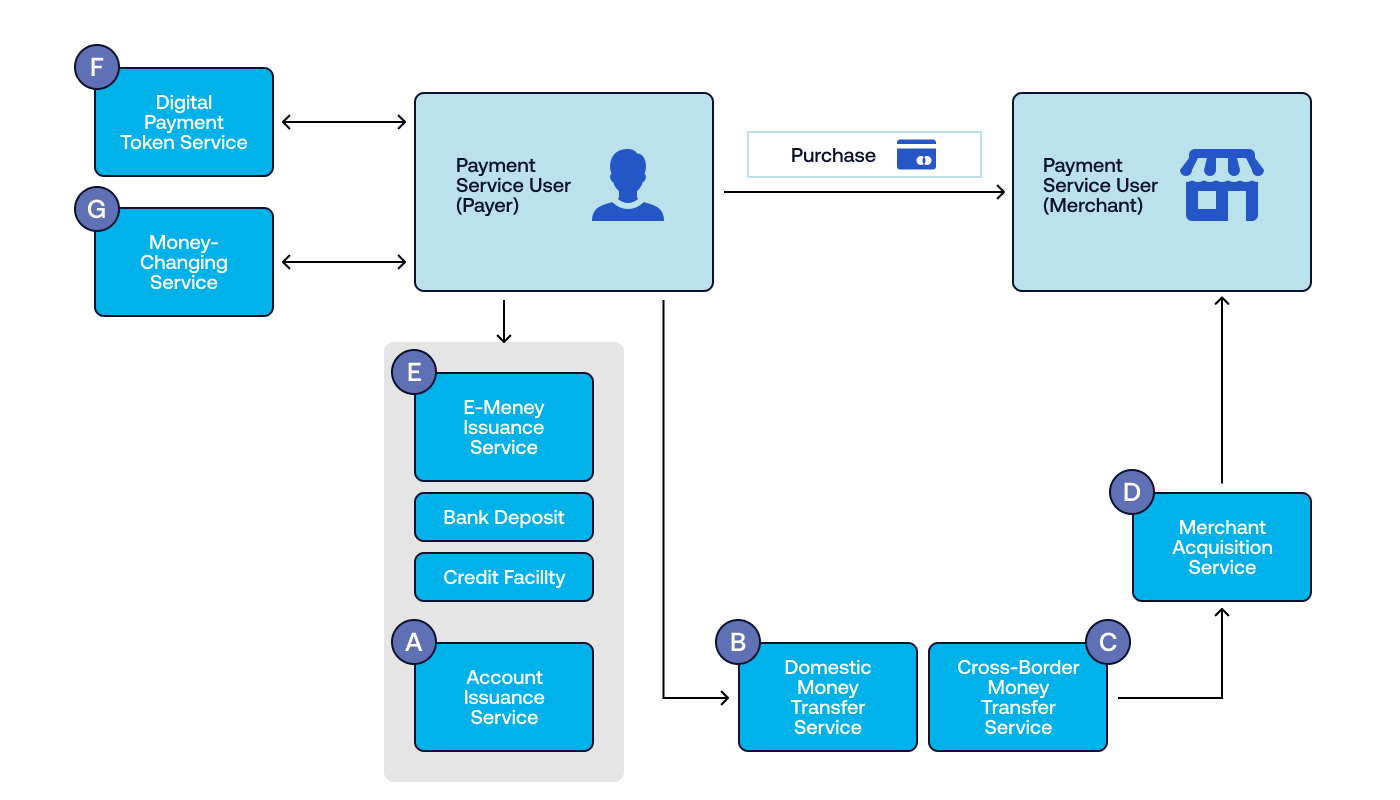 Activity A: Account issuance service
GRAB: Super app for non-bank financial services
Interestingly, MAS does not require licensees to pay any application fees for this licensed activity, but this does not mean that it is not useful to get this activity.
This activity is particularly useful for B2C companies, and one of them would be GRAB. In the GRAB app, users can top-up fiat into their e-wallets in the app as stored value in order to make purchases for GRAB-enabled merchants and services. With this e-wallet, it allows users the convenience of topping up Fiat and using them to pay for goods and services with the click of a button.
Activity B and C: Domestic and cross-border money transfer services
Transfer Wise: Transferring funds anywhere, anytime
These activities are the most common activities that most payment companies will be using as part of their businesses. In short, these activities simply mean how your company transfers funds (i.e. Fiat) to other entities.
If it is within Singapore (e.g. transferring of funds to a local supplier in Singapore) and if the fund transfer is outside of Singapore, it would likely fall under cross-border money transfer service.
A quick check on the Monetary Authority of Singapore (MAS) website, you can see that cross-border money transfer activity is the most licensed activity among the rest, which is rightfully so given the nature of payment companies being globally focused.
Transfer Wise, an international payment company, is an example of how they have both domestic and cross-border money transfer services to allow their users to transfer funds locally and to other countries.
Activity D: Merchant acquisition service-empowering merchants to grow their business
Merchant acquisition is the most familiar with local merchants and one of the most frequently used activities by local merchants. The POS machines that you see at shopping malls that allow merchants to receive payment via credit cards are a good example of the use of merchant acquisition.
Activity E: Issuance of e-money
StraitsX: Project Orchid
During the recent Singapore FinTech Festival (SFF), StraitsX, for Project Orchid, launched a purpose-bound e-money where participants could download the e-money voucher at the exhibition to redeem it at participating partners.
Such a use case would require the entity to have the license to conduct account issuance and issuance of e-money activities. Below is the flow of wrapped xSGD offered by Xfers under Project Orchid during this year's SFF.
Apart from StraitsX, Grab and Temasek, other supporting partners include ADDX, AltLayer, Automata, Coinbase Wallet, dtcpay, Fomopay, Sequence, TripleA, Trust Wallet and VISA.
Activity F: Digital payment tokens
dtcpay: Digital asset services
When the Payment Services Act (PSA) was launched in 2019, it created an international buzz because of this particular activity that will be licensed under the Act. Digital Payment Tokens (DPTs) or commonly known as cryptocurrency, made Singapore one of the pioneers in regulating cryptocurrency at that time.
It is worthwhile to note that this activity is also one of the most sought-after since only 11 entities have obtained this licensed activity (as of December 2022), with many applicants still waiting or having already withdrawn their license applications.
Other than the usual crypto exchanges in the likes of Independent Reserves, Coinhako, there are also stablecoins issuers such as Circle and Paxos as well as crypto payment players like Digital Treasures Centre that have thus far received this licensed activity from MAS.
Crypto payment company like dtcpay empowers merchants to accept crypto as payment and assist them in converting it into fiat for settlement. It allows merchants to open up to new customer segments, such as crypto natives, to grow their businesses. Such an innovative use case is one of the key competitive advantages of having this licensed activity.
Finding the right strategic partner for sustainable growth
Having a responsible business in a regulated country, especially one that is well respected internationally, like Singapore, helps build trust and confidence among its customers and investors. This helps them to grow in a sustainable manner.
Many fintech companies might have products that could disrupt industries but are lacking in compliance and regulatory experience. And that's where they could partner with experienced licensed entities such as dtcpay to work on growing the products while ensuring that they meet the regulatory requirements.
Such strategic partnership also helps to uplift the industry as a whole to become a more responsible and sustainable business model. Interestingly, dtcpay is one of the two companies (as of December 2022) that have obtained the six activities listed above, giving dtcpay and its partners the competitive advantage to scale and launch new products quickly in Singapore.
If you are looking for a strategic partner in Singapore, dtcpay can provide the expertise and experience to assist you in building your presence in Singapore.