Partnership
dtcpay appointed as a digital payment service provider for Five Iron Golf
dtcpay appointed as a digital payment service provider for Five Iron Golf
18 Jul 2023 • 2 mins Read
Singapore – 18 July 2023, dtcpay, a global digital payments provider licensed by the Monetary Authority of Singapore (MAS), today announces that it has been appointed by Five Iron Golf, a renowned urban golf entertainment company, to revolutionize their payment ecosystem.
---
Introduction
By integrating dtcpay's cutting-edge digital payment solutions, Five Iron Golf aims to enhance the overall customer experience and streamline transactions at their state-of-the-art golfing facilities. This partnership underscores dtcpay's commitment to empowering businesses with seamless and secure payment solutions, while reaffirming Five Iron Golf's dedication to delivering exceptional service to their patrons.
By embracing cryptocurrency payments, Five Iron Golf can unlock a multitude of advantages. This forward-thinking approach enables the company to cater to a burgeoning market of tech-savvy consumers who value alternative payment methods such as Bitcoin, Ethereum, and others. Leveraging cryptocurrencies not only enhances customer engagement but also ensures secure and decentralized transactions, mitigating the potential risks associated with fraud or chargebacks.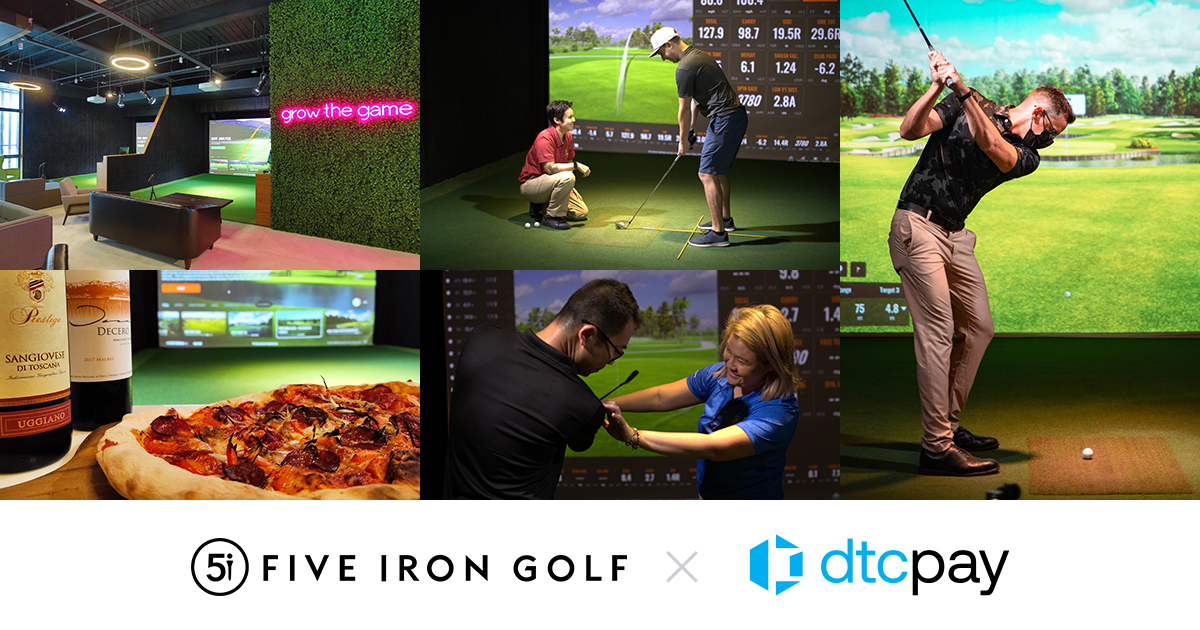 "Cryptocurrencies facilitate swift transactions, eliminating the customary delays and intricacies inherent in traditional banking systems. The seamless and efficient nature of crypto payments holds the power to elevate the overall customer experience, ultimately fostering greater customer satisfaction and loyalty,"
Luca
Business Owner of Five Iron Golf
In reference to the collaboration, Kanny Lee, the Group CEO of dtcpay, said "As the demand for digital payments continues to surge, an increasing number of service firms are keen on providing seamless payment solutions to their global clientele. This partnership brings forth a range of advantages, including reduced transaction fees and expedited, highly secure processing."
About Five Iron Golf
Five Iron Golf has quickly re-shaped golf culture in the United States and beyond, growing from our original New York location to a high-tech, inclusive urban golf experience internationally for golfers and non-golfers alike. With it's opening in Singapore and tour-level TrackMan technology, Five Iron Golf stands apart as the best indoor golf simulator experience in Singapore helping the masses to get their swing on, the 5i way is about access to play, practice and party. With access to 1 on 1 private sessions with golf professionals, Five Iron Golf Singapore aims to bring out the golfer in everyone and craft unforgettable experiences. Come for the golf, stay for the experience. 
Five Iron Golf is located at 139 Cecil Street, level 13. 
For more info, please visit https://fiveirongolf.sg/ 
Media Contact: 
Contact : Mr Rukesh Varan
Mobile: +65 9611 8719
Email : rukesh@fiveirongolf.sg 
About dtcpay
dtcpay is a regulated payment service provider that offers reliable solutions for merchants to grow revenues with increased acceptance rates across Fiat and cryptocurrency.  Our client's customers benefit from frictionless payment experiences whether they are using our award-winning POS+ terminal in-store or using our online checkout.
Founded in 2019 in Singapore, dtcpay is a licensed Major Payment Institution (MPI) under the Monetary Authority of Singapore (MAS) and offers Digital Payment Token (DPT) services.
Find out more at https://dtcpay.com/