Partnership
DM AUTOHAUS Appoints dtcpay as a Crypto Payment Partner
dtcpay has been appointed as a Crypto Payment Partner by DM AUTOHAUS.
23 May 2023 • 3 mins Read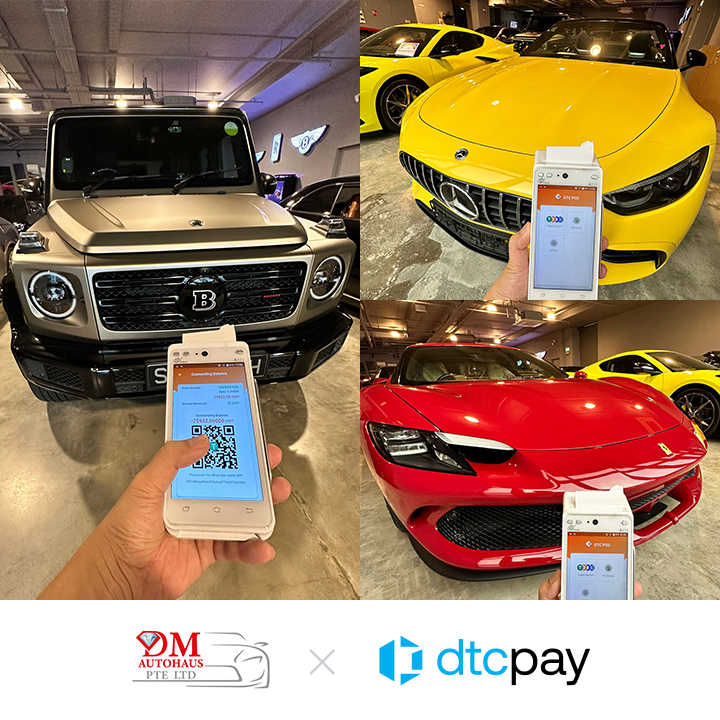 Singapore – 23 May 2023, dtcpay, a global digital payments provider licensed by the Monetary Authority of Singapore (MAS), today announces that it has been appointed by DM AUTOHAUS to provide cryptocurrency payments infrastructure for its business.
---
Introduction
The partnership's objective is to expand the digital payment alternatives available to DM AUTOHAUS customers by introducing cryptocurrency payment options. This will provide customers with greater convenience and flexibility when making purchases. At the car showroom, customers can use USDT, USDC, Ethereum, or Bitcoin to pay for their desired products.
The new service allows customers to pay using cryptocurrency through dtcpay POS+. With this new service, customers can simply scan the QR code of the POS+ and pay using their preferred cryptocurrency.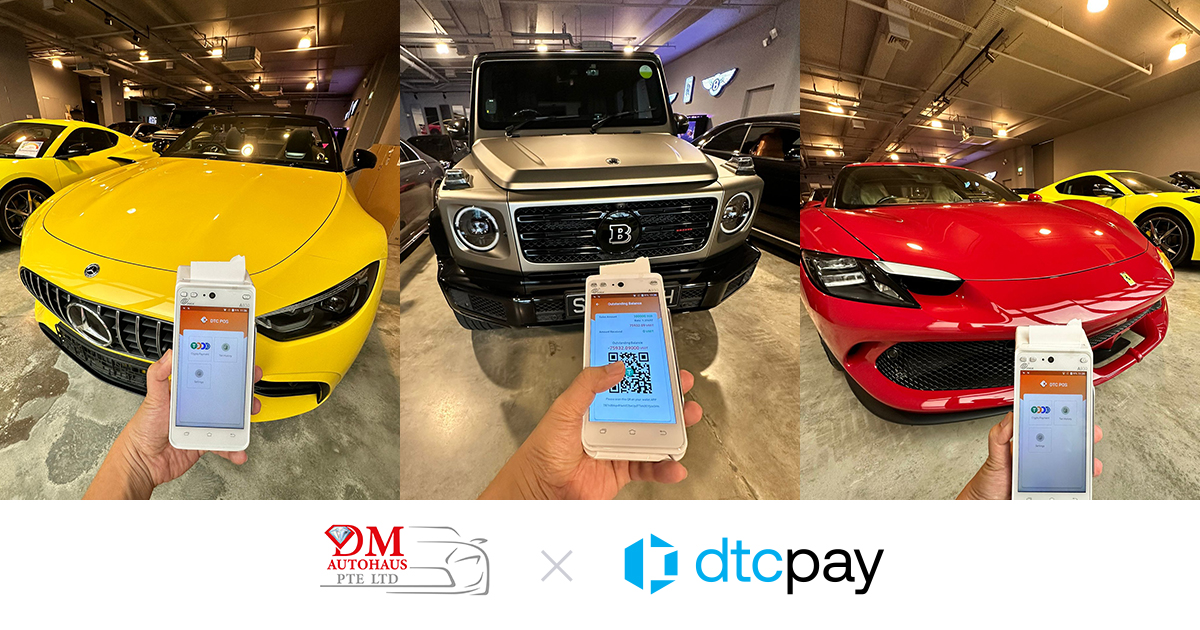 "As cryptocurrency gains popularity as a payment method, numerous businesses are seeking to incorporate it into their payment systems. DM AUTOHAUS is also among them, acknowledging the increasing interest of its customers in making crypto payments. To provide a hassle-free and secure payment experience to its customers, DM AUTOHAUS has partnered with dtcpay, a reputable and dependable crypto payment provider,"
Raymond Oh
Director of DM AUTOHAUS
Commenting on the partnership, El Lee, COO at dtcpay, said: " as the use of cryptocurrencies continues to rise, more businesses are likely to incorporate crypto payments into their payment systems due to the numerous advantages they offer, such as lower transaction fees, quicker processing times, and improved security. By partnering with dtcpay, DM AUTOHAUS has positioned itself as a leader in this area and is adequately prepared to meet the changing payment requirements of its customers."
About DM AUTOHAUS
DM AUTOHAUS is a well-known name in the automotive industry, specializing in the retail of supercars and continental makes. With a reputation for providing high-quality vehicles and exceptional customer service, DM AUTOHAUS has become a go-to destination for automotive enthusiasts and collectors.
Whether you're looking for a sleek Lamborghini, a powerful Ferrari, or a luxurious Mercedes-Benz, DM AUTOHAUS has a wide range of options to choose from. Their inventory is carefully curated to ensure that only the best vehicles are available to their customers.
DM AUTOHAUS takes pride in their expertise in the industry and is committed to providing a personalized experience to every customer. Their team of experts is knowledgeable and passionate about cars and is always available to assist with any questions or concerns.
If you're in the market for a supercar or a continental make, DM AUTOHAUS is definitely worth a visit. For more information on their inventory and services, be sure to check out their Facebook page at https://www.facebook.com/DMtheExperts/.
About dtcpay
dtcpay is a regulated payment service provider that offers reliable solutions for merchants to grow revenues with increased acceptance rates across Fiat and cryptocurrency.  Our client's customers benefit from frictionless payment experiences whether they are using our award-winning POS+ terminal in-store or using our online checkout.
Founded in 2019 in Singapore, dtcpay is a licensed Major Payment Institution (MPI) under the Monetary Authority of Singapore (MAS) and offers Digital Payment Token (DPT) services.
Find out more at https://dtcpay.com/